Marbled beef faith has gone around over the world, and now red meat is fashionable in Japan. It seems at last we Japanese knew the meaning of foreigners saying that marbled wagyu beef is too oily.
Japanese fast food newcomer: Roasted beef bowl
Trending style of the bowl has been fixed already. Very rare roasted beef + egg yolk + mayonnaise flavor sauce + soy sauce based sauce + heaping up mountain style on rice.
It looks large size the bowl itself is just medium so it's average size for lunch. And the taste is… incredibly yummy.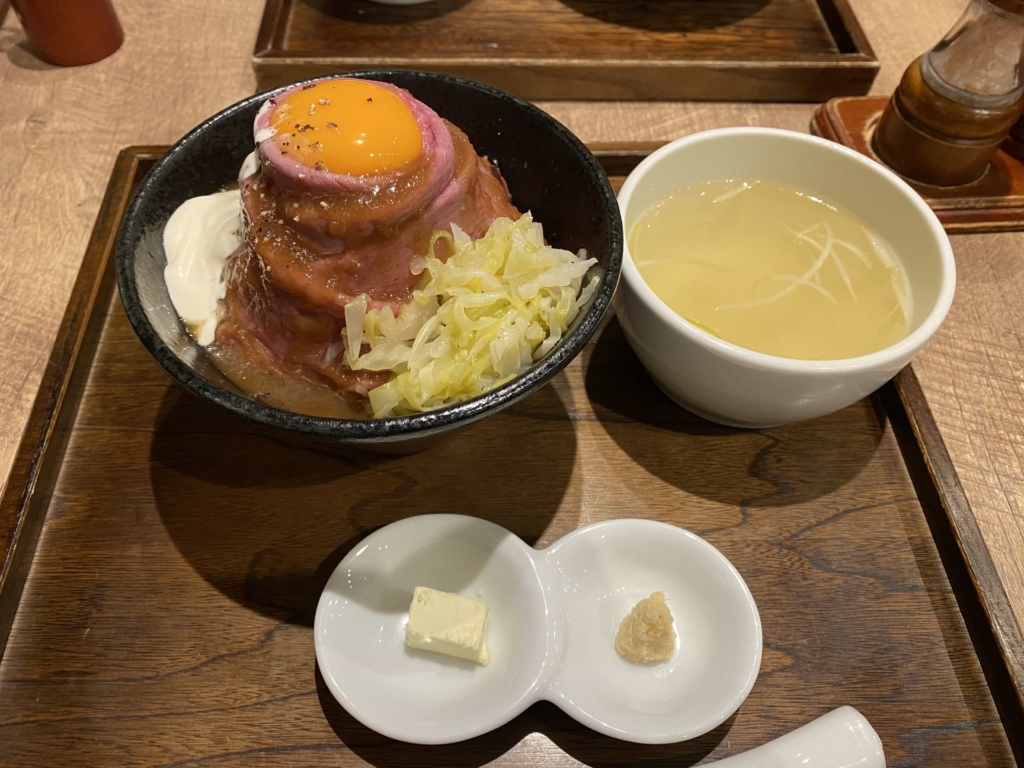 Incredibly yummy
Tender beef and mild creamy sauce is best matching to rice. In spite of tenderness the meat is low in fat so I definitely recommend to order large size one. You are going to eat up only in 3 spoons. The meat looks very rare. However actually it seems to be cooked with long time, which leads good visual and moistly tenderness.
This food is simple, so it can be regarded as new Japanese fast food. But the price is more than that of hamburgers, around 10 USD.
Where we can eat
Red rock (2 in Tokyo, Osaka, Nagoya, Kyoto, 3 in Kobe)
Roasted beef Ono (Akihabara – Tokyo)
Red Rock chain is the boom maker of the dish but I recommend Roasted beef Ono if you are in Tokyo. At this restaurant you can choose from US beef or Wagyu beef. – of course Wagyu beef is superior.
I don't know which category exactly this food belongs to, but if it can be in Japanese food let's say, it goes sort of 6th best favorite Japanese fast food.